Today we will be doing a review of James Wendall's My Traffic Business (mytraffic.biz)
If you've stumbled upon mytraffic.biz and the e-book List Building Excellence and you're itching to know whether it really lives up to the money-making promises, you are at the right place.
Our team paid for the e-book and dived into it, applying the lessons, and came away with a good understanding of what it is all about.
In this My Traffic Business review, I'm here to give you the lowdown on My Traffic Business (List Building Excellence) based on our findings.
We'll dive into what the book teaches and then I'll give you my honest take on whether it's worth your time and investment.
No.1 recommendation….
Want to see my no.1 recommendation for making money online?
This made us 6-figures in the last 3 months:
Go here to see my no.1 recommendation for making money online
Key Takeaways
"My Traffic Business" is an email list-building e-book that promises to get you making money online.

James Wendall, the creator of My Traffic Business claims that he can teach you how to build an email list that you can use to boost your marketing efforts and increase your earnings.

My Traffic Business goes by several names, like My Traffic Biz, My Traffic Biz v2.0, Wake Up To Cash Now, My Traffic Business system, and List Building Excellence.

There are serious concerns about the legitimacy of this program because of a lack of information about James Wendall.

Alternative programs appear to offer more transparency and reliability for earning money online.
Recommended: Go here to see my no.1 recommendation for making money
What is James Wendall's My Traffic Business (mytraffic.biz)
My Traffic Business is an online campaign promoting an ebook called List Building Excellence that teaches you how to create responsive mailing lists that you can use to make money online.
It is promoted by someone known as James Wendall who alleges that the secret to more sales for affiliates is creating a responsive list, and he's the guy to teach you how to go about it.
We couldn't ascertain whether James is a real person owing to his non-existent online presence and we'll address that later.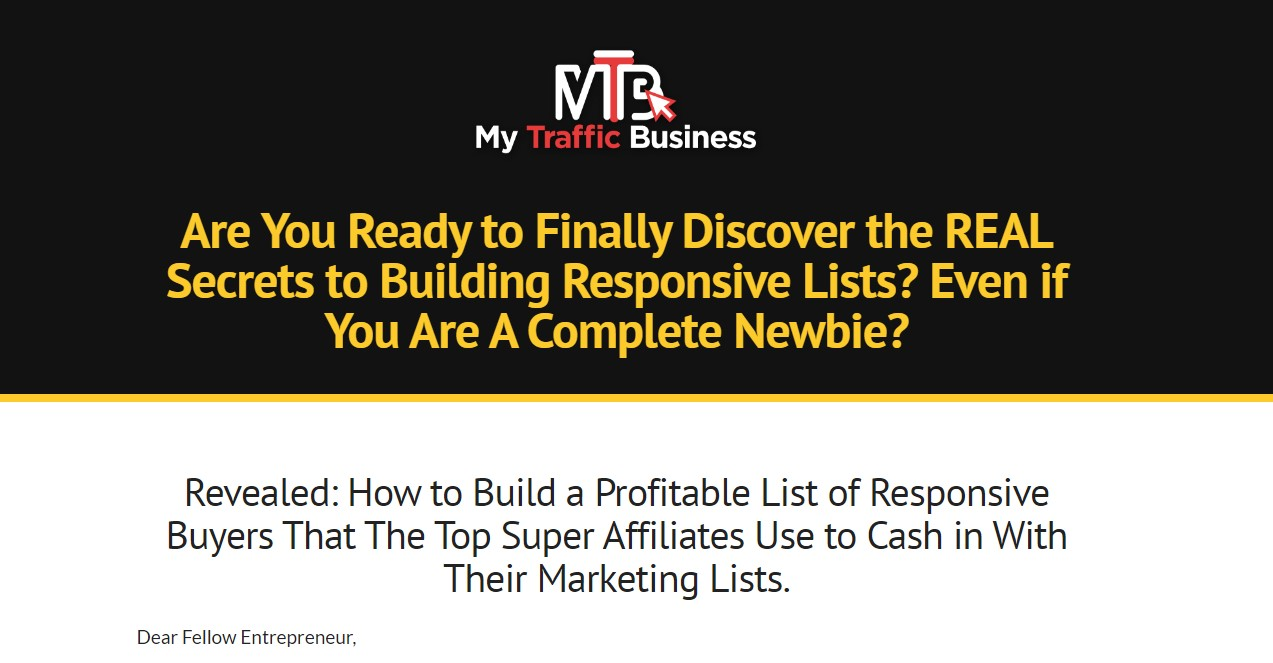 James claims that by spending just a few minutes each day, you could kickstart a lucrative online venture, supposedly raking in $500 per day by sending out affiliate marketing emails.
He confidently assures you that he's got the golden ticket to wealth, even boasting that he made a whopping $10,000 in his first month.
Sounds pretty enticing that you can make so much money, right?
He makes it seem easy – just send an email and watch the dollars roll in.
Now, here's the catch: while email marketing can be a legitimate way to boost your efforts to make money online, his approach is not great.
Who Is Behind My Traffic Business (mytraffic.biz)?
Honestly, we have no idea who is behind it.
To say that James Wendall is a mysterious figure is an understatement.
James Wendall is the guy who lends his voice to the video promoting MyTraffic.biz.
But there are quite a few inconsistencies in his story.
First, nobody seems to know who this guy is – seriously, we did a quick search and we got nothing.
That's a huge red flag right there.
Normally, when you have someone teaching you how to make money online in whatever way (think dropshipping, affiliate marketing, Amazon FBA, and the like), they are usually a real person.
For example, we know who The Mikkelsen Twins, Iman Gadzhi, and Jullien Gordon are because they are real people. That's the least you expect from the guy or gal asking you to take out your credit card and pay for a course.
There is a high chance that although we've got a James Wendall talking in the sales video, the dude talking is actually someone who was hired to read a script.
See those glowing testimonials in the video? They're likely from paid actors who got a gig on Fiverr.
A quick search of the image of the guy we are told is James Wendall reveals that he is everywhere.
So, what's the deal? It's like they hired a fake spokesperson.
And if they did, then who's the mastermind behind My Traffic Business? Well, in the sales video, you'll see a bunch of stock images swiped from the internet.
It's a classic smoke and mirrors act, hiding behind a borrowed identity to peddle their product, masquerading as our good old buddy James Wendall.
Whichever way you look at it, it is not a good sign.
Recommended: Go here to see my no.1 recommendation for making money
How Does My Traffic Business Work?
Now, here is how My Traffic Business IS MEANT TO WORK:
You'll discover the essential tools you need to make your list profitable.
Uncover the secrets to crafting an enticing free offer that gets people excited to subscribe.
My Traffic business teaches you how to create a squeeze page for maximum conversions.
You learn how to create a one-time offer to turn subscribers into buyers.
Even if you don't have your own products yet, you'll learn how to add a high-value upsell to your funnel.
You learn how to set up your autoresponder the right way.
You learn about the most successful traffic methods to get targeted traffic.
Link Building Excellence is meant to offer a step-by-step approach devised by James Wendall, presenting an easy method to build your email list.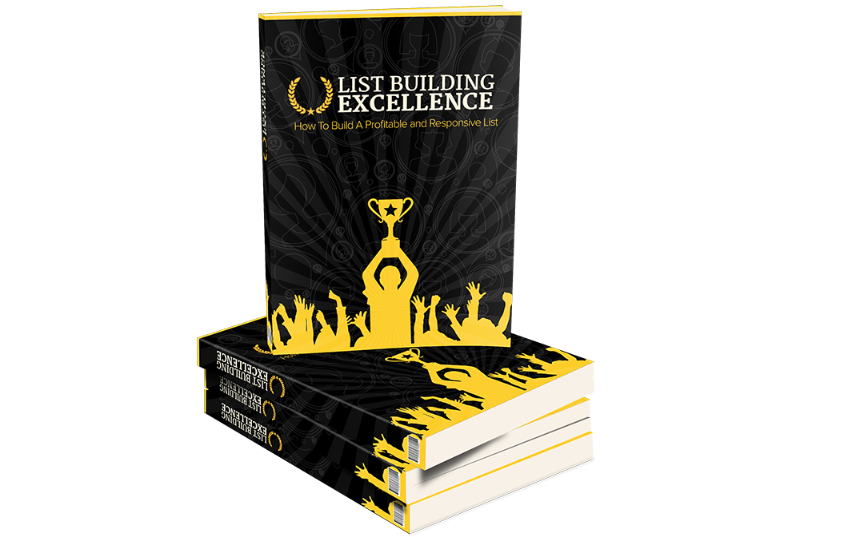 This list becomes a key asset, enabling you to reach your income goals, gain recognition, establish your brand, and enhance your reputation through targeted communication with eager, loyal subscribers.
By delving into the ebook, you'll discover how to kickstart your list-building journey and achieve the income levels you've been aspiring to. Once you grasp the steps, there's no limit to how many lists you can create.
When it comes to successful product launches, James believes that email marketing is the hidden gem that enables super affiliates to rake in significant profits.
It's also a powerful tool for building a brand, establishing your leadership in a niche, and driving a steady stream of traffic without spending a dime on leads.
The e-book hammers home that a targeted, loyal list is the foundation of substantial earnings. This is the success strategy employed by many industry "gurus" and it's the competitive edge you need in your market.
With the knowledge and guidance provided in James Wendall's ebook, you can conquer hot niches online and rapidly develop a high-profit email list across various markets.
It's an opportunity with minimal initial costs, granting you the freedom to explore a multitude of online ventures.
Having your own email list opens up a world of possibilities for generating revenue, whether through your products or by capitalizing on high-ticket product launches as an affiliate. When you have your email list, the potential for income is truly boundless.
In addition to the Link Building Excellence e-book, you also get two bonuses:
Cheat Sheet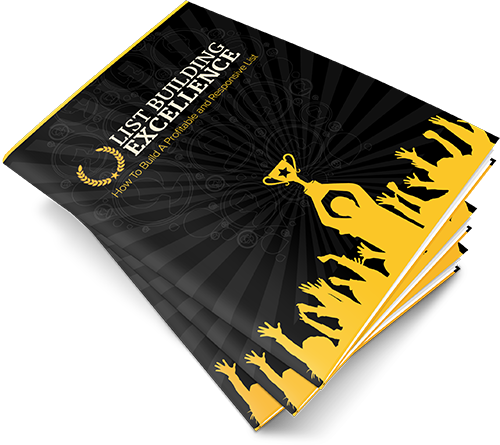 The Cheat Sheet is meant to offer valuable tips and strategies to help you efficiently grow your email lists, a key step toward generating revenue. You'll receive it as a complimentary resource upon downloading List Building Excellence.
Mind Map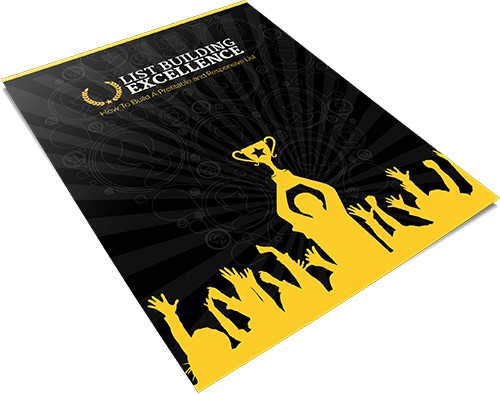 Mindmap is supposed to offer a detailed visual representation of the list-building process, guiding you through the necessary steps effectively. This, too, is available for free when you access List Building Excellence Today.
Recommended: Go here to see my no.1 recommendation for making money
How Does My Traffic Business ACTUALLY Work?
After doing our in-depth analysis of the e-book, we learned that My Traffic Business is all about making money through affiliate marketing using email, but with a twist.
Instead of promoting various products, you'll basically be promoting the My Traffic Business method itself.
They give you the eBook "List Building Excellence" to get started, but beyond that, you're pretty much on your own.
The catch is that while they claim to handle the hard work, you'll end up chasing traffic and pushing prospects to their website.
If your prospects don't buy right away, you're advised to keep bombarding them with emails. It's not exactly the effortless money-making solution they make it out to be.
Is Email Marketing a Legit Traffic Booster?
Email marketing is a cornerstone of effective digital marketing strategies for several compelling reasons:
First, it offers a direct and personalized communication channel with your audience. Through emails, you can tailor messages, promotions, and updates based on the recipient's preferences, behavior, and interactions with your brand. This personalization boosts engagement and enhances the likelihood of conversions.
Second, email marketing provides a high return on investment (ROI). The costs associated with creating and sending emails are relatively low compared to the potential revenue they can generate. A well-crafted email campaign can yield significant returns, making it a cost-effective tool for marketers of all scales.
Moreover, email allows for automation and segmentation. Automation allows you to send timely and relevant messages to different segments of your audience, ensuring they receive content that aligns with their stage in the customer journey. This automation saves time and ensures a consistent flow of communication.
Email marketing is also excellent for building and nurturing customer relationships. By regularly engaging with your audience through valuable content, updates, and offers, you can cultivate trust and loyalty. Repeat engagements keep your brand in their minds, which is crucial when they make purchasing decisions.
Furthermore, email marketing enables detailed analytics and insights. With robust analytics tools, you can track metrics such as open rates, click-through rates, conversion rates, and more. These insights help refine your strategies, allowing you to optimize future campaigns for better results.
Recommended: Go here to see my no.1 recommendation for making money
My Traffic Business (mytraffic.biz) Pricing
There's a one-time fee of $27 although it used to be $47, and if you want the VIP treatment, that's an extra $9.95.

The sneaky thing is, if you try to click away from the site, suddenly it's a 50% discount, bringing it down further.
Although that sounds like a good deal for you, it cheapens the course and makes it look like it's not worth what it is pegged to be.
The price here raises eyebrows; I mean, can you really expect top-notch value for just 27 bucks? That's a serious question mark in my book.
Refund Policy
There is a 30-day refund policy according to the terms and conditions page. It reads:
"Our refund policy is simple: You have 30 days to use and benefit from the MyTraffic.biz program, and if for any reason you are unhappy please simply call us or email us, and request a refund. We will cheerfully and happily initiate a refund for you.
Refund time lines: Once we initiate your refund it can take up to 10 business days for the funds to become available back in your account."
Even with that refund policy clearly stipulated, some folks have raised concerns about delayed refunds after requesting them.
Imagine eagerly seeking a refund, only to find it's taking longer than expected. It's frustrating and can leave a sour taste in your mouth.
Now, this isn't to say everyone has faced this issue, but we need to be aware of potential hiccups in the system.
As with any service, it's a good practice to read reviews, clarify refund policies upfront, and maybe even reach out to customer service to get a better understanding of how things work before jumping in.
Recommended: Go here to see my no.1 recommendation for making money
What are People Saying About My Traffic Business (mytraffic.biz)?
Although the My Traffic Business website has reviews, I chose to not delve into those and focus on the ones that are on third-party sites for impartiality.
There has been a generally negative reaction to My Traffic Business from people on Better Business Bureau where it has a score of B-. Many reviewers have called My Traffic Business a scam.
Here are some of the reviews left on BBB:
"My traffic biz claimed I would make money instantly and I cannot even access my account with their login information. I am going to call this company a fraud. I cannot even access anything."
Another review:
"Seen there advertisement on social media and contacted them. Watched their video, then went to call them as directed. They began to ask personal questions about my credit score, where we lived, birth date, social security number. Then I refused and asked for my money back as their questioning was not inline with the ** job they discussed. It all was about personal finances which have no bearing on doing a job."
Another user says:
"I signed up to make money at home with mytraffic.biz. I paid $27.00 and after that everything stopped and I had no control of the opportunity to make money at home I got scammed I want a refund!"
And another:
"I have requested a fund from Mytraffic.biz about 2 weeks ago. Their e-mail stated I would have a refund within 10 days. That was last Thursday, July 27th. I have yet to receive the refund totaling $75.00 I requested."
One thing we noticed is that Mytraffic.biz replied to all the complaints asserting that they had initiated refunds.
This is what appears to be the standard response: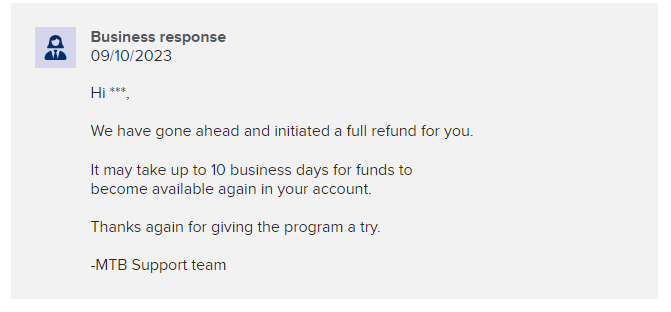 All in all, most complaints are about refunds or the quality of the course, to which the standard response is "We will refund your money."
In terms of the quality of the lessons in the ebook, most people say it didn't help them.
What We Liked About My Traffic Business (Mytraffic.biz)
They issue refunds.
The customer support is responsive. They've replied to almost all complaints on BBB over the past year.
Drawbacks of My Traffic Business (Mytraffic.biz)
A significant red flag is the lack of transparency regarding the owner or leadership behind My Traffic Business. Trustworthy businesses typically provide clear information about the people running the show, their experience, and their qualifications. The absence of this transparency can make it difficult to ascertain the credibility and legitimacy of the program.
Another concerning aspect is the presence of negative reviews on independent review platforms like the Better Business Bureau (BBB). A multitude of negative reviews can indicate issues with the program, customer dissatisfaction, or potential problems in delivering what's promised. BBB ratings and customer reviews are often reliable indicators of a business's credibility and the quality of its offerings.
After our assessment, we found that the quality of the course provided by My Traffic Business is subpar. The feedback and experiences shared by individuals online corroborate this. A quality online course should offer clear, comprehensive, and valuable content that genuinely helps students achieve their goals. If the course is lacking in substance, or practicality, or fails to deliver what was initially promised, it raises doubts about the legitimacy and effectiveness of the program. That's what we felt about My Traffic Business.
Recommended: Go here to see my no.1 recommendation for making money
Is My Traffic Business Legit?
Mytraffic.biz is a legitimate platform in the sense that it operates legally and some people may find it helpful.
However, when it comes to comprehensive and top-tier material for building an email list, it might not be the absolute best choice.
There are other courses out there that provide more in-depth, up-to-date, and effective strategies for growing and engaging an email list.
Our reservations about Mytraffic.biz stem from the red flags we've raised.
We always encourage you to exercise caution and thoroughly research any platform before investing time or money, especially in the field of email marketing where having the right knowledge and strategies can make a significant difference in your success.
So, while Mytraffic.biz might be a legitimate ebook (or hosting a legit book), we encourage you to explore and consider other courses that come highly recommended for their effectiveness and credibility.
My Traffic Business (mytraffic.biz) Alternatives
Many other programs can serve as excellent alternatives to My Traffic Business. Here are some of them:
HubSpot Academy offers excellent email marketing courses covering a broad spectrum of topics, from basics to advanced strategies. Their certification course is free, allowing you to learn at your own pace. After completion, you can take an exam and upon passing, receive a certificate and a badge to showcase on your website, LinkedIn, or Upwork profile.
Mailchimp offers a free email marketing course ideal for those already using their platform. Geared towards beginners, it covers email list building, campaign creation, and more. To access, you need to be part of the Mailchimp & Co program. The course is self-paced, grants email marketing certification upon completion and offers additional certifications like email marketing automation and Mailchimp certification through various Mailchimp email marketing courses.
Google Digital Garage provides free email marketing courses. Specifically, the Email Marketing Basics course is an excellent starting point for newcomers. It teaches the fundamentals of email marketing, covering topics such as building an email list, creating effective campaigns, and measuring results. The course is self-paced and offers a certification upon completion.

Email Marketing Mastery: A program that focuses on maximizing profits through effective email marketing strategies. It also emphasizes the importance of having a responsive list just like My Traffic Business does.

The Wishpond Email Marketing Masterclass is an ideal choice for beginners, taught by experts and covers key topics like email campaign types, common mistakes, creating a marketing funnel, and growing your email list. It's a free course that allows self-paced learning, providing a solid foundation for those new to email marketing without overwhelming them with excessive information.

Commission Junction: Internationally renowned, this platform offers a wide range of products for affiliates to promote. They've earned trust within the digital marketing industry by being transparent and reliable.

Simplilearn Advanced Email Marketing. This course is designed for experienced digital marketers aiming to improve their email marketing expertise. It's an advanced level, skipping basic concepts and delving into higher-level aspects. Beginners should begin with a more foundational email marketing course before enrolling in this one.
Matt Diggity's Affiliate Lab course: This one is not geared towards email marketing but I think it is worth mentioning because of what it brings to the table for affiliate marketers. It is a comprehensive guide focusing on ranking, monetizing, and selling high-competition affiliate websites. Matt, a prominent SEO expert, draws from extensive testing on numerous websites to offer expert guidance and support to students. The course caters to beginners, intermediates, and experienced affiliate marketers, aiming to help them build profitable affiliate ventures that can be sold for a profit.
Recommended: Go here to see my no.1 recommendation for making money
My Traffic Business (mytraffic.biz) Verdict
In conclusion, while promises of effortless wealth and traffic generation sounded appealing, we couldn't overlook the red flags that popped up during our review.
From poor reviews to the mystery surrounding the founder. You should, therefore, tread carefully and consider all aspects before diving into such ventures. There are numerous legitimate ways to boost your online traffic and revenue without risking your hard-earned resources.
We encourage you to explore these alternatives, do thorough research, and make informed decisions that will genuinely benefit your online aspirations. Stay vigilant, stay savvy, and choose your online ventures wisely.
FAQs
1. What is My Traffic Business (mytraffic.biz)?
My Traffic Business is a program that claims to teach users how to drive traffic to their websites for better profits, using various sales mediums and follow up systems.
2. Is My Traffic Business (mytraffic.biz) a scam?
Some negative reviews label mytraffic.biz as a 'Traffic business scam,' citing issues such as poor customer service experience and difficulty in getting a refund due to strict refund policy.
3. Does the mytraffic.biz hire actors for their promotional materials?
Many critical reviewers claim that the entire sales video of mytraffic.biz features hired actors, which they view as deceptive marketing or a huge red flag.
4. How does this program make promises about earning money quickly?
The traffic business advertises itself as a 'money-making robot' where you can begin making money fast once you've gained necessary access; however, these claims are met with skepticism by more experienced participants.
5. Are there any legit positive reviews about the My Traffic Business Program?
Yes, some customers have positive experiences with the service provider despite all the bad publicity surrounding it; however, due diligence is recommended before investing your money in the program based on personal testimonials alone.
6. Are there alternatives to My Traffic Business?
Yes! Several Better Business Bureau-accredited platforms offer list-building excellence without taking advantage of beginners or stock photo-promoted programs like mytraffic.biz promising better alternative ways of achieving online success.
Before you go…
Want to see my no.1 recommendation for making money online?
This made us 6-figures in the last 3 months:
Go here to see my no.1 recommendation for making money online