Local Marketing Vault is an online training program created by James Bonadies and Jason McKim and it is geared towards showing you how to start a lead generation business based on local marketing.
The course has been getting a lot of eyeballs of late because of its unique approach to teaching you how to get started in local marketing, whose main feature is its "two page sites" technique which we'll delve into later in this article.
In this Local Marketing Vault review, we take a closer look at the training involved when you sign up for it and how it works so you can decide whether it is the right program for you to learn about what it takes to start your own agency.
Key takeaways:
Local Marketing Vault is legit
James Bonadies is a trustworthy individual
LMV has many verified success stories
What is Local Marketing Vault?
Local Marketing Vault (LMV) is a comprehensive online course designed to equip individuals with the knowledge and skills to effectively manage Google and Facebook ad campaigns specifically tailored for local businesses within the framework of a lead generation business.
The program emphasizes the local marketing model, which harnesses the power of paid advertising platforms like Facebook ads and Google AdWords to generate high-quality leads for diverse small businesses operating across various industries and business models.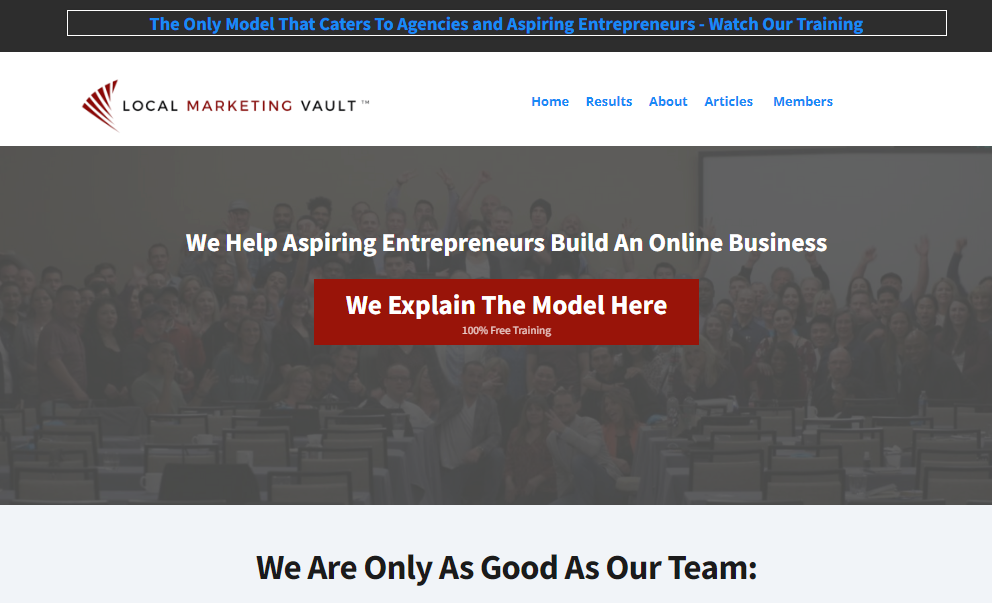 Local Marketing is an online marketing approach used by small businesses, such as plumbers, hair salons, electricians, and many others, that primarily serve customers within a localized area.
Normally, these businesses hire someone or an agency to handle the local marketing for them. This makes it a great way for anyone looking to enter the world of online business and start generating income to get started.
If you are hired by a small business to run its local marketing drive, you need to understand how it works. That's where the local marketing vault comes in.
Their comprehensive training program equips you with the skills to effectively prospect and secure clients for local businesses by running strategic Facebook ads or AdWords campaigns. The ultimate goal is to enhance the business's visibility within its geographic region.
If you deliver exceptional results, your clients (the small businesses) will want to continue utilizing your services every month, establishing a long-term partnership.
Local Marketing Vault is unlike most training programs because it employs a practical approach to its training.
For example, the program provides you with pre-built landing pages created using the Clickfunnel funnel model, showing you how to streamline the lead-generation process for your clients.
Why You Need To Join Local Marketing Vault
While there are numerous methods to earn money online, such as ecommerce, Amazon FBA, house flipping, and MLM, one avenue that often gets overlooked is local marketing.
Jason and James, having found success in the field of local marketing, decided to share their expertise by teaching others how they achieved their online business goals.
What sets them apart is that they have not only mastered the subject but have also built their own profitable online ventures, serving as living proof of their strategies.
With over 5,500 students and counting, their teaching has resonated with aspiring entrepreneurs.
As the internet continues to expand, local businesses increasingly require assistance in enhancing their online visibility. Customers now spend a significant amount of time online, making it crucial for businesses to adapt and thrive in the digital landscape.
Jason and James firmly believe that their hands-on experience distinguishes them as exceptional instructors.
Unlike many other online course providers, they have worked in the field, which means they succeed at the very same online business they now teach and possess the practical knowledge and credentials needed to effectively teach local marketing strategies.
What is local marketing?
Local marketing, also known as neighborhood marketing or local store marketing, is a targeted marketing strategy employed by businesses to attract customers within a specific geographic radius of their location.
Brick-and-mortar businesses, whether an independent local business or part of a larger chain, can greatly benefit from implementing local marketing strategies as it helps drive foot traffic and increase customer engagement.
This approach is particularly effective for businesses with physical storefronts, where the primary transactions occur in person, as opposed to solely online.
By focusing on the local market in their ad campaigns, businesses can leverage their marketing resources to reach a specific audience that is more likely to respond to their digital and print advertisements and actually visit their store or hire their services.
A key aspect of successful local marketing is understanding the target audience. By gaining insights into the demographic and psychographic characteristics of the local customer base, including their geographic location, businesses can tailor their marketing efforts to effectively engage and attract these potential customers.
With this knowledge in hand, businesses can direct their local marketing initiatives to the areas and channels that are most likely to yield positive results, maximizing their marketing efforts and driving growth within their target market.
Why is Local Marketing Vault Better Than Other Programs?
If you want to run successful paid ads campaigns to market local businesses and attract more customers for them, you need certain skills and expertise to be effective.
Some of the essential skills you need to run a successful paid ads campaign include effective copywriting, selecting compelling images, creating enticing offers or hooks, and knowing how to find the target audience.
Many small business owners either lack the time or the know-how to handle local marketing themselves.
This creates an opportunity for professionals like you who understand how to do it to step in and offer your expertise, helping them develop a robust local marketing strategy. In return, they compensate you with a monthly fee for your services.
Local Marketing Vault provides you with the comprehensive training in local marketing that you need. This training empowers you to understand the nuances of local marketing and implement effective strategies that yield remarkable results.
Once you are actively working with clients, you can decide whether to incorporate paid ads into your marketing approach (Local Marketing Vault teaches you how to run paid ads).
Mastering this skill — knowing when you should use one marketing approach or the other — is essential for anyone running a digital marketing agency.
Through Local Marketing Vault's training, you will learn how to run paid ads effectively, enabling you to scale your business and attract multiple clients paying monthly.
Who is Behind Local Marketing Vault?
The LMV was created by James Bonadies and Jason McKim. Let's take a closer look at who they are and the experience that makes them ideal candidates to be teaching local marketing:
James Bonadies
James Bonadies embarked on his professional journey in the field of education, where he taught Business Education in a high school. Over time, he expanded his knowledge by obtaining an MBA in Administration and Supervision, which eventually led him to become a Vice Principal.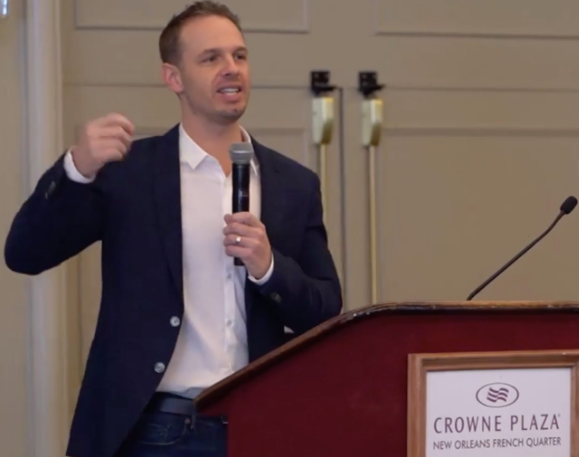 However, James soon realized that the education sector wouldn't provide him with the financial success he desired. Determined to explore new opportunities, he ventured into the world of online money-making ventures.
After years of exploration and searching for the perfect niche, he discovered a highly effective Business Model. In 2014, he joined a renowned lead generation coaching program called Job Killing, led by Dan Klein.
With relentless drive and dedication, James quickly achieved remarkable success, generating seven-figure earnings annually.
Inspired by his achievements, he decided to shift his focus from acquiring clients to running his own coaching program alongside Jason, specializing in teaching the intricacies of paid ads.
Their coaching program experienced exponential growth, swiftly reaching eight figures, and establishing itself as one of the longest-running local marketing programs available today.
James attributes the program's enduring success to their unwavering commitment to prioritizing their students' needs and success.
In addition to his ventures in the digital realm, Jason also has a passion for real estate investments. Reports suggest that he possesses rental units valued at approximately $7 million.
With his exceptional professionalism and trustworthy nature, James Bonadies has earned a reputation as a stand-up guy based on firsthand experiences with those who have interacted with him.
Jason McKim
Jason McKim initially aspired to become an entrepreneur, but after facing years of setbacks and failures, he decided to explore opportunities as a financial consultant.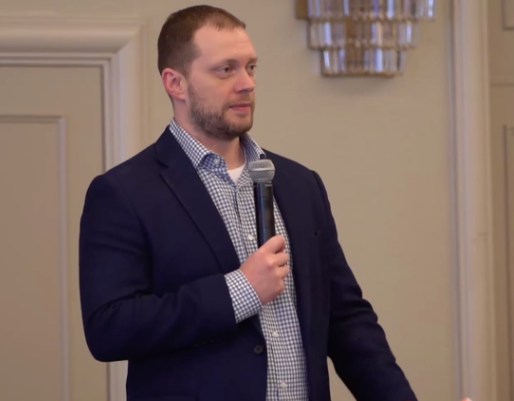 At that time, commission-based earnings were his only option. While experiencing some initial success with significant sales, his streak eventually came to a halt, leaving him unable to secure further sales.
Faced with financial hardship and recently married, Jason began to dabble in internet marketing. Equipped with newfound knowledge in SEO (Search Engine Optimization), he secured a marketing position at a law firm.
Demonstrating considerable proficiency in running ads and optimizing SEO, he started taking on side clients to supplement his income. However, it wasn't long before the law firm decided to downsize.
They approached Jason with an offer to continue managing their marketing efforts but as a retainer-based contractor rather than a salaried employee. By that time, he had begun seeking out other businesses to provide marketing services.
Driven by a desire for independence and the opportunity to work with multiple companies, Jason immersed himself in expanding his knowledge of SEO and paid traffic. This led him to establish his own agency, acquiring a handful of clients along the way.
He crossed paths with James at a seminar, and they discovered a shared vision and passion.
Together, Jason and James ventured into teaching aspiring students the art of leveraging paid traffic of local marketing.
James played a pivotal role as a motivator and promoter of their program, while Jason utilized his expertise to guide and educate students on effective marketing strategies.
A Step-By-Step Guide to Joining The Local Marketing Vault
If you follow James and Jason's model, you can earn up to $40,000 per month with just two simple two-page websites. They draw similarities between their and the successful revenue-generating strategies employed by companies like Uber, Lyft, and Airbnb.
The other thing to note about Local Marketing Vault is that you don't require a substantial amount of capital, extensive technology experience, or significant time investment.
To join Local Marketing Vault, the best way to go about it is to visit their official website using this link. Once there, you will find a dedicated page designed to facilitate the enrollment process.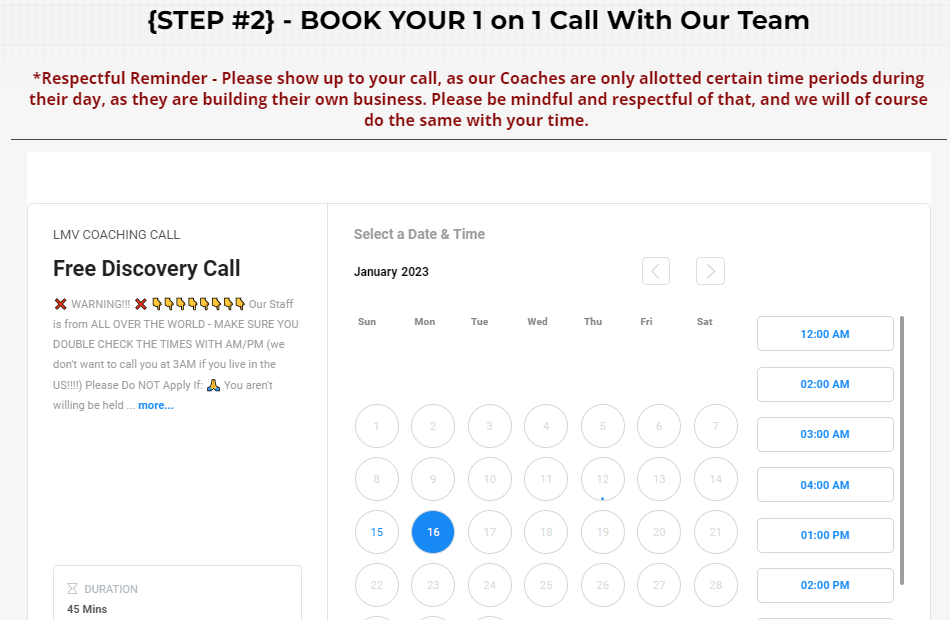 Alternatively, you can join via the website: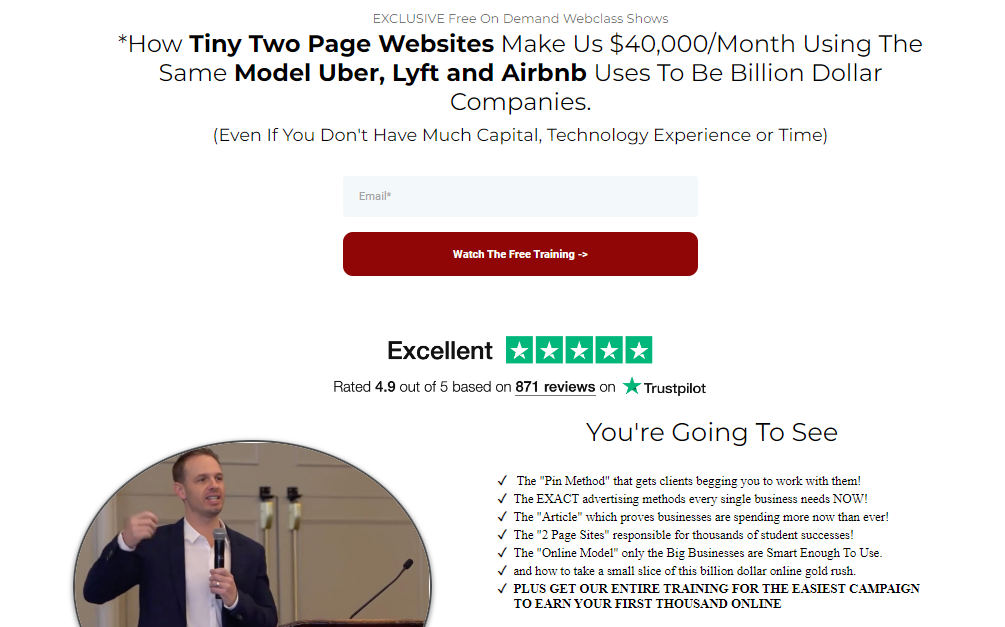 When you click the "Watch The Free Training" button and provide your email address, you will be directed to this page: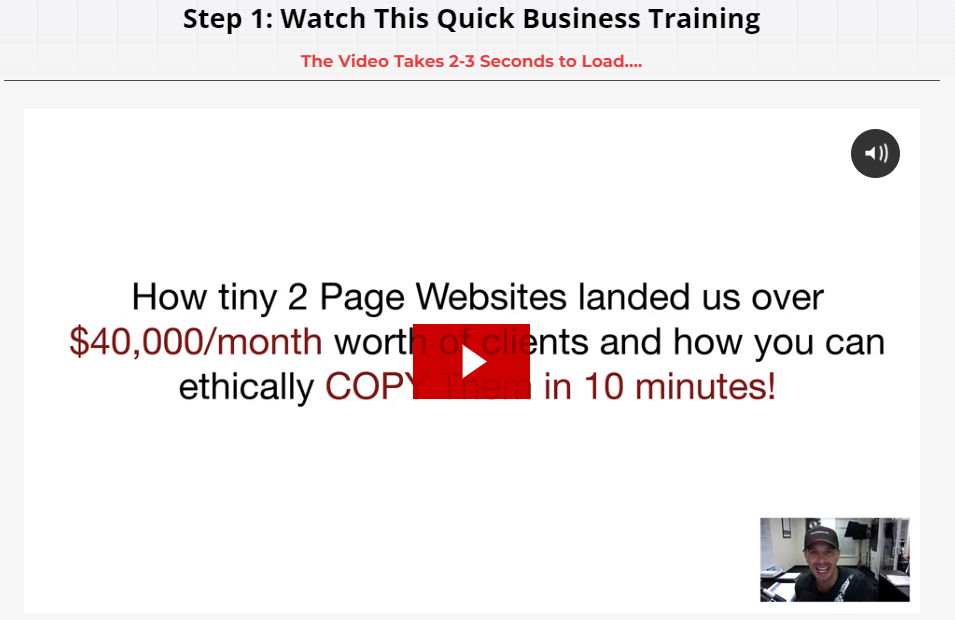 It is a video tutorial on how Local Marketing Vault works in general.
Either way, you will be required to book a call with one of their coaches. They have specific time slots that you can book to talk to them.
During that call, they gauge how good of a fit you are for the program. They also outline the payment details and other details you need to sign up.
The training is about:
 ​​The "Article" proves businesses are spending more now than ever!
​​The "2 Page Sites" are responsible for thousands of student successes!
The "Pin Method" that gets clients begging you to work with them!
​The EXACT advertising methods every single business needs NOW!
​​The "Online Model" only the Big Businesses are Smart Enough To Use.
​How to take a small slice of this billion-dollar online gold rush.
The program teaches you how to make money online as a digital marketing consultant for local businesses.
How The Local Marketing Vault Works
From our first-hand experience, upon enrolling in the program, you will gain access to lessons that focus on running a successful local advertising business.
Now, since you will be operating a social media or paid ad agency, it is crucial to master the key aspect of the industry: prospecting.
Prospecting involves effectively reaching out to business owners, capturing their attention by articulating the value you can bring to their businesses, and ultimately convincing them to hire you to run their marketing efforts.
The Local Marketing Vault program equips you with the skills and strategies to successfully prospect and acquire clients.
You will learn how to convince individuals, whom you may have never met before, to entrust you with their credit card information over the phone.
Within the program's modules, you will also delve into topics such as running AdWords campaigns or managing Facebook ads for local businesses, structuring deals, and implementing strategies to scale your own business.
In summary, here's a glimpse of the key areas covered in the program:
Craigslist Lead Automation
Leads in Advance
E-mail marketing
Cold Prospecting; 10 Call Challenge (Cold Calling) and 25 Email Challenge (Cold Email)
Local Marketing Vault's primary objective is to teach you how to launch and manage a paid advertising agency that targets local businesses.
However, after being in the industry for a long time, it is important to note that paid ads represent just one aspect of the broader field of digital marketing. The program does not provide comprehensive coverage of local search engine optimization (SEO) techniques.
Outlined below are the key modules offered in the program:
Module 1
In this introductory module, you will gain a comprehensive overview of the Local Marketing Vault program. You will learn about the available support resources and understand the key areas of focus within the training. This module also provides essential information about the functioning of the vault.
The welcome video, led by Jason, offers a detailed walkthrough of each tab on the website. You will receive a step-by-step explanation of every aspect of the training platform, ensuring you have a clear understanding of its features and functionality.
Module 2 (Getting Clients)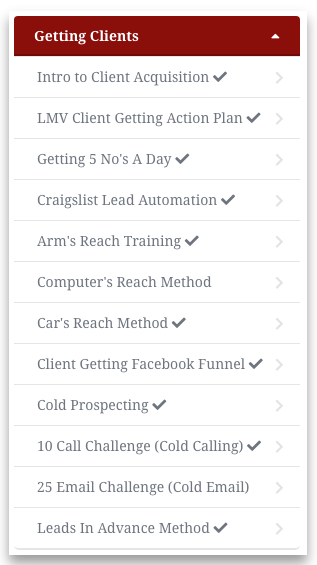 Module two is dedicated to acquiring clients for your business.
Within this module, you will receive a valuable tool to keep you on track and accountable – a daily checklist.
This checklist, presented in the form of a spreadsheet, serves as a practical resource to develop effective business habits, particularly in the area of prospecting. By utilizing this checklist, you will establish a consistent routine that ensures your focus remains on actively seeking and securing new clients.
Module 3 (The Vault Mindset)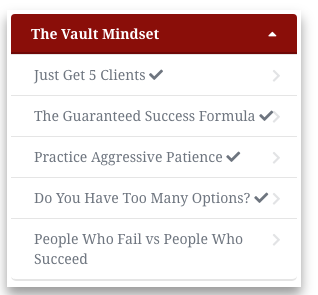 Module three is dedicated to cultivating the right mindset, which is crucial for anyone aspiring to be a successful entrepreneur.
In this module, Jason imparts valuable insights into the importance of consistency, persistence, and patience. These qualities are fundamental in achieving long-term success as they emphasize the significance of taking steady and unwavering action.
By adopting and embodying these principles, you will be equipped with the mindset that will help you to navigate the challenges and setbacks that may arise on your entrepreneurial journey.
Module 4 (Vault Marketing Strategy Training)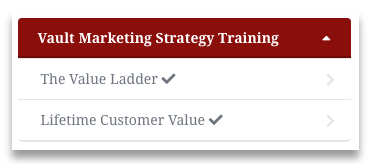 This module guides you to acquire clients and generate leads on their behalf.
In this module, you will discover various strategies for offering services tailored to the specific needs of your clients.
You will learn the concept of the Value Ladder, which allows you to begin with low-cost or low-risk services and gradually introduce more lucrative offers as you build trust and establish a strong relationship with your clients.
By understanding and implementing the Value Ladder approach, you will gain the knowledge and skills to strategically guide your clients along a path of increasing value, maximizing their satisfaction while also maximizing your revenue potential.
Module 5 (Vault Services Training)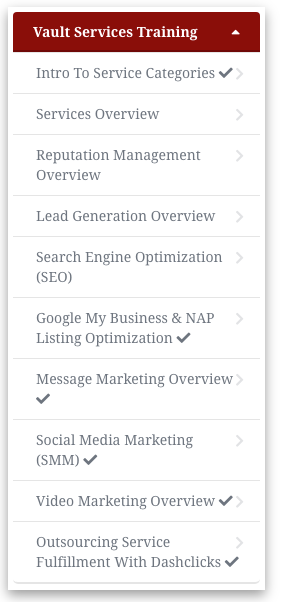 The LMV business model encompasses various aspects, all aimed at assisting small businesses in acquiring more leads, boosting sales, and increasing profits.
In this module, you will learn how to effectively categorize your services to ensure that clients can easily comprehend and appreciate the value you provide.
There are three primary categories that successful businesses integrate into their strategies: Brand, Customers Now, and Customers Later. Each category serves a distinct purpose in driving business growth and achieving long-term success.
Additionally, you will be introduced to a tool called Dashclicks. This platform generates comprehensive reports and facilitates outsourcing tasks such as social media management and SEO, streamlining your operations and enhancing your overall efficiency.
Module 6 (Vault Sales Strategy Training)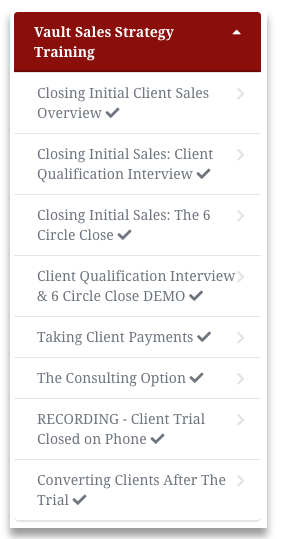 In this module, the initial video emphasizes the significance of adopting the client's perspective and understanding their concerns and priorities, rather than solely focusing on your own goals.
Here's what you'll learn:
The importance of scheduling the next step before concluding a meeting is to maintain momentum and facilitate further progress.
The concept of utilizing "yes" questions during presentations is a subtle psychological trigger to engage and persuade clients.
The value of asking clients open-ended questions like "how do you feel about that?" to gather feedback and demonstrate empathy.
Jason talks about the significance of offering services as a comprehensive package, providing bulk pricing discounts to incentivize clients. Then, you'll learn effective down-selling techniques such as waiving setup fees or offering trial periods for lead generation services when clients don't require the full suite of services.
You learn the Six Circle Close sales method, which involves utilizing a slideshow presentation to effectively sell your services.
You get introduced to techniques for incorporating visual elements to enhance the appeal of your offer and make it more compelling. This module presents information in three easily understandable categories to effectively communicate with your clients.
Module 7 (Building Your Agency)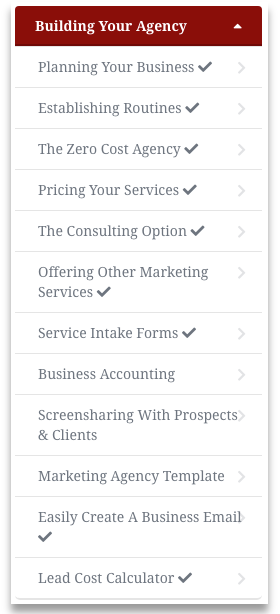 In this section, Jason provides valuable insights into legally establishing your own business. He recommends starting as a Sole Proprietor and gradually transitioning to an LLC structure as you progress.
Furthermore, Jason guides you on identifying potential write-offs, including the investment in the course itself and essential business tools such as your computer. He shares effective strategies to minimize out-of-pocket expenses when acquiring necessary resources.
Additionally, Jason offers guidelines for selecting a suitable name for your agency, ensuring it aligns with your branding and resonates with your target audience.
Module 8 (Done For You Value Ladder Training)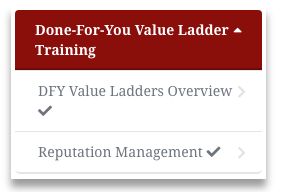 In this module, you delve deeper into the concept of the Value Ladder, gaining a comprehensive understanding of its significance.
The Value Ladder serves as a valuable tool that provides a clear starting point when prospecting and helps identify individuals or businesses that can benefit from your assistance.
By utilizing the Value Ladder, you gain a better understanding of the specific needs and challenges faced by potential clients, allowing you to tailor your approach and offer targeted solutions.
Module 9 (Funnel 101 Training)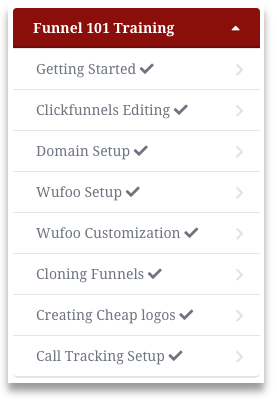 Local Marketing Vault provides specialized training tailored to the needs of local businesses. The program focuses on niche-specific strategies and equips you with the knowledge and tools necessary to excel in your target industry.
One of the valuable features of the program is the ability to access custom, pre-made funnels designed specifically for each industry. With just a single click, you can leverage these optimized funnels to streamline your marketing efforts.
Jason's expertise shines through as he comprehensively guides you through every aspect of the ClickFunnels platform. Whether you're new to it or already familiar, his instruction ensures that you never feel lost.
On top of that, he shares insights on building forms using Wufoo, a platform known for its superiority over ClickFunnels forms.
Furthermore, you will learn how to select an effective domain name for your funnel and seamlessly set it up using ClickFunnels.
As part of the program, you'll also discover the power of CallFire, a renowned tool among marketers worldwide. With CallFire, you can effortlessly forward and record phone calls, and even forward text messages, providing you with enhanced communication capabilities to boost your marketing efforts.
Module 10 (Funnel Automation Training)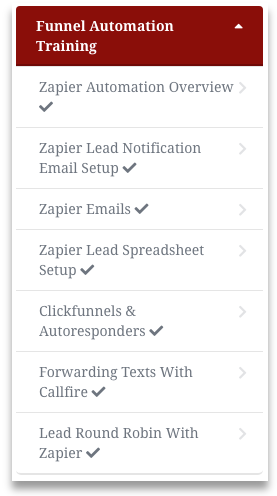 In this module, you delve into the world of funnel automation. You will learn how to streamline your funnels and implement efficient processes.
They teach you how to set up notifications to instantly inform your clients whenever a new lead is generated. This real-time communication ensures prompt follow-up and maximizes lead conversion potential.
Moreover, you will discover the power of autoresponders. These automated email systems enable you to send customized "welcome" emails and follow-up sequences to engage and nurture your leads effectively. By leveraging autoresponders, you can build strong relationships with your prospects and enhance the overall success of your marketing campaigns.
Module 11 (Vault Software Training)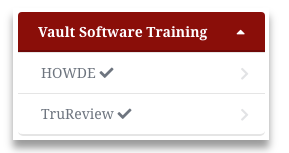 Within the program, you will have access to two powerful automation tools: Howde and TruReview, designed to streamline essential business processes.
Howde, the first tool, is an automated follow-up system developed by the Vault. It takes leads generated through contact forms and engages with them until a response is received. This tool ensures consistent and persistent communication with potential clients, increasing the chances of converting leads into customers.
The second tool, TruReview, focuses on automating the review acquisition process. It simplifies the task of gathering reviews from customers and also provides alerts whenever a negative review surfaces, allowing for swift remediation. With TruReview, managing and improving your online reputation becomes a more efficient and automated process.
Additionally, these tools facilitate automated outreach to previous clients, enabling you to maintain ongoing communication and nurture relationships with past customers, fostering long-term loyalty and potential referrals.
Bonus Features Included in Local Marketing Vault
The LMV Partnership Program
The LMV partnership program offers a valuable opportunity to collaborate with LMV-Approved Partners. This allows you to leverage the expertise of individuals who excel in areas where you may require additional support.
For instance, if your strengths lie in sales and you prefer to concentrate on that aspect without being burdened by technical responsibilities, you can seek a tech partner. They will complement your skills by handling the technical aspects of your agency, ensuring a seamless operation.
Conversely, if you possess exceptional technical proficiency but find sales challenging, partnering with a sales expert can be a strategic move. Together, you can combine your respective strengths to deliver comprehensive services to clients and drive business growth.
The LMV partnership program facilitates a collaborative approach, allowing you to work with compatible partners who complement your skill set and enhance the overall efficiency and effectiveness of your agency.
The LMV Accelerator
The LMV Accelerator offers an exclusive one-on-one training experience with the top vault coaches for $997. The primary objective is to expedite the process of acquiring clients, aiming to achieve this milestone within the first six weeks of participation.
Within the Accelerator program, you will have access to a range of valuable services, including AdZombies, overseen by Ken "Spanky" Moskowitz. AdZombies provides a convenient avenue for outsourcing copywriting, ensuring that you can obtain high-quality and compelling ad content to effectively promote your clients' businesses.
By enrolling in the LMV Accelerator, you can benefit from personalized guidance and support from experienced coaches, along with access to specialized services like AdZombies, to accelerate your client acquisition process and enhance your overall success in local marketing.
Access To The Private Facebook Group & Live Coaching
Within the Local Marketing Vault, you gain exclusive access to a thriving private Facebook group consisting of over 3000 members. This community provides a valuable platform for networking, sharing insights, and receiving support from like-minded individuals.
You can participate in weekly live coaching calls conducted by industry experts, where you can receive personalized guidance and address any questions or challenges you may have.
Access To Pre-built ClickFunnels Landing Pages
As part of the Local Marketing Vault program, you are provided with a diverse collection of pre-built ClickFunnels landing pages. These ready-to-use templates cover over 50 different niches, allowing you to easily select and customize a landing page that aligns with your specific business needs.
These professionally designed pages are optimized for conversion, incorporating persuasive copywriting and visually appealing designs to maximize the effectiveness of your paid traffic campaigns.
What is The 10K Club?
The 10K Club is an exclusive program offered by LMV to celebrate and reward your achievement of reaching $10,000 in revenue. As a member of the club, you will receive a commemorative t-shirt and a plaque, symbolizing your success and dedication to your business.
When you are running paid ads, a significant portion of the generated revenue goes toward platforms like Facebook or Google Ads. As a local marketing professional, you have the opportunity to earn a management fee of 15% to 20% from your paid ad clients.
This fee serves as compensation for your expertise in managing and optimizing their ad campaigns.
Local Marketing Vault Cost
The cost of enrolling in the Local Marketing Vault program is $3,994. You can pay it in lumpsum or monthly installments.
Note that if you opt for the installment plan, it may result in a slightly higher overall cost.
Refund Policy
LMV provides a refund policy that allows you to request a refund within 72 hours of making the initial payment. This ensures that you have a brief window of time to evaluate the program and its suitability for your needs.
The Awards That LMV Has Won
LMV has been recognized with prestigious awards for its outstanding achievements.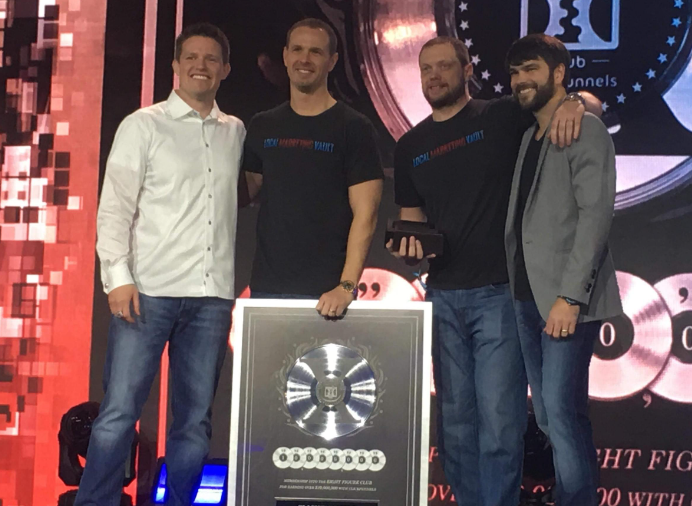 One of their notable accolades is the 8 Figure Award, which was earned by the Coaching Program for reaching 8 figures in revenue within just 2 years. Additionally, the program has experienced remarkable growth, doubling its success in the last 12 months.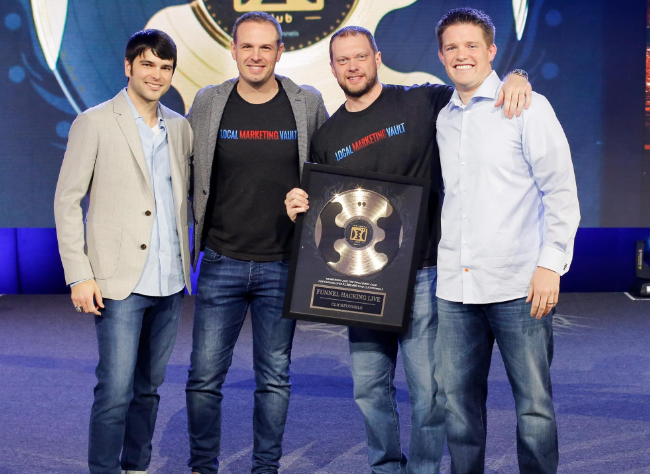 Another remarkable recognition is the 7 Figure Award, which acknowledges the crucial role of LMV in their students' success. By providing a proven method and a reliable business model to emulate, LMV has served as a solid foundation for aspiring entrepreneurs.
It's worth noting that LMV continues to operate their own Agency, ensuring they remain actively involved in the industry and maintain their expertise in the field.
Is The Local Marketing Vault Legit?
Based on our firsthand experience, we can confidently say that Local Marketing Vault is a legitimate program and we have identified several compelling reasons to support this claim.
First, the program offers ongoing support and live coaching sessions conducted by coaches who have successfully established their businesses. This means that as a participant, you have the opportunity to learn from experts who possess extensive knowledge of the industry.
This invaluable guidance can significantly benefit those who are genuinely committed to starting a paid ads agency and wish to acquire insights from individuals who truly understand the landscape.
Second, although the program may come with a higher price tag, the potential return on investment can be substantial once you secure your first few clients. If you have a few clients booking your services, you can sustain your agency.
Now, make no mistake; obtaining clients will not be easy. Prospecting, arranging meetings with business owners who may be unfamiliar with you, and effectively conveying why you are the ideal solution for their customer generation needs will require persistence and dedication.
It is worth noting that marketing courses like LMV often face skepticism, as some individuals mistakenly believe that simply paying the course fee guarantees instant success without putting in the necessary effort.
In reality, to succeed in this field, you have to put yourself out there, navigate through rejections without losing motivation, and remain steadfast in your pursuit of achieving your goals.
Benefits of Joining The Local Marketing Vault
The Local Marketing Vault business model does not require a significant upfront capital investment. As a paid ads agency, you won't be using your funds to run ad campaigns. Instead, it is the clients who cover the costs of the advertising, which means that you can launch your agency without a substantial financial outlay.
For individuals who excel in sales, mastering the prospecting strategies taught in the program can lead to quick client acquisition and the potential to generate fast income. The emphasis on effective prospecting techniques enables those with a knack for sales to capitalize on their skills and see results relatively quickly.
Another benefit of the Local Marketing Vault approach is that running paid ads is generally considered easier to learn compared to mastering the complexities of local SEO. Paid advertising methods often yield more immediate and measurable results for clients.
Drawbacks of Local Marketing Vault's Business Model
One challenge associated with the Local Marketing Vault business model is client retention. When working with small businesses, be prepared for the possibility of losing clients for various reasons. Competition from other agencies offering better rates or a lack of ROI due to a client's sales team's inability to convert leads into sales are factors that may lead to a client not wanting to spend on ads anymore.
If you are new to sales, trying to convince business owners to invest in your services over the phone can be challenging. The marketing services industry is saturated with service providers, making it crucial to differentiate yourself and effectively communicate the value you can deliver.
Paid ads can be unpredictable. If there are competitors in the same area running similar ad campaigns, the increased demand may drive up the cost per lead. If the price becomes too high, it can impact the profitability of your clients and potentially result in the termination of your working relationship.
Local Marketing Vault Verdict
Based on our testing working with Local Marketing Vault, we can confidently say that it is an excellent program for individuals looking to venture into local marketing, even without prior experience. It is a great resource if you are looking to start your own lead generation business.
The fact that James and Jason have firsthand experience working in the field adds tremendous value to their teachings, as they possess deep knowledge and insights that are relevant today.
However, don't forget to make the best use of the program requires diligent effort and a serious commitment to implementing the strategies you will be taught. Simply learning the material is not enough; you have to actively apply the knowledge and put in the work to manage local marketing campaigns effectively for your clients.
While the program predominantly focuses on paid advertising, it is worth noting that as you become proficient in these techniques, also learn how to optimize websites for organic, free traffic. This additional skill can further enhance lead generation and make you more marketable.