I recently stumbled across a presentation by Adam O'Dell in which he was pitching what he terms as "Imperium " technology. The title in some versions of the pitch is: "The Unstoppable Stock Market Juggernaut of 2021."
He says that it is "Mankind's next great leap forward" and "An era-defining technology set to disrupt the entire global economy in 2021."
It concerns a device with a technology he calls "Imperium" that he says is set to disrupt global industries worth up to $64 trillion and he wants us to invest in the company that makes the device.
In this piece, I walk you through the presentation highlighting the main talking points as well as reveal the names of the companies he wants us to consider investing in.
No.1 recommendation….
Want to see my no.1 recommendation for making money online?
This made us 6-figures in the last 3 months:
Go here to see my no.1 recommendation for making money online
What is Imperium Technology? (The Pitch)
Imperium (or The Unstoppable Stock Market Juggernaut of 2021) is a pitch that was put out by Adam O'Dell to discuss a new trend based on what he calls Imperium technology.
Adam is so excited by this new technology that he says he expects it to grow five times faster than the internet did.
Imperium is a Latin word for "the power to command" and the trend he is talking about centers on a new device that does DNA sequencing:
"But you're probably wondering — what exactly is 'Imperium' technology?
And what does this machine do?
Well, this thing here reads your DNA and then digitizes it so it can be stored on a computer.
It's called a 'DNA sequencer'… because your DNA is made up of a 'sequence' of six billion letters."
Adam says that sequencing the DNA has always been an expensive endeavor that has been out of reach for ordinary folk. To elaborate, he says that the first time scientists sequenced the DNA of one person, it took 13 years and cost $2.7 billion.
But that was before DNA sequencing machines evolved. Now, he says that there is a new sequencer that is so effective, you can have your DNA sequenced in less than eight hours for $239. All you need to do is swab the inside of your mouth and the DNA will be sequenced and uploaded to a computer in a single workday.
From an investing standpoint, this is significant because it will bring DNA technology to the masses
Why is the mass adoption of DNA sequencing important?
According to Adam, this will have wide-ranging applications.
For example, he says that it will enable us to end diseases like cancer, Alzheimer's, Hepatitis, losing eyesight, and many more that can be dealt with more effectively once we have studied DNA.
He also thinks that it will transform the $5 trillion global agricultural industry along with the $12 trillion food and grocery retail industry because even plants will have their DNA sequenced.
The $35 trillion manufacturing sector will also be revolutionized with biological manufacturing. An example of this is manufacturing biological spider silk without having to keep spiders. The spider silk that will be produced this way still be soft and strong and it will be mass-produced.
Recommended: Go here to see my no.1 recommendation for making money
Adam O'Dell's Number One Imperium Stock
The company that Adam has chosen as the best candidate for the DNA sequencing trend is one that he thinks will be as pivotal to the trend as Intel was to the mass roll-out of the internet. He says that just like Intel developed a microchip that powered the internet and did better than most internet stocks, this DNA company has patented a new microchip that will power the DNA megatrend as it goes mainstream.
Its tool should be better than all the DNA sequencing tools we've had.
He drops a few hints about this company.
In the presentation, he says:
"They're able to process DNA much faster than the competition thanks to a new kind of microchip they've developed and patented."
And this microchip is important because…
"It allows my No. 1 DNA company to process DNA at 10,000 TIMES the speed of the previous technology thanks to its unique 'nanowell' technology.
Before the invention of this microchip, DNA was manipulated in test tubes by hand…"
It has partnered with a few notable companies and Adam lists them…
"In fact, they have A-list clients lining up to use their technology…
They've already partnered with the Broad Institute…
MIT…
Harvard…
Microsoft…
$50 billion biotech giant Illumina…
And even DARPA, the military's advanced research division, who says this microchip puts my No. 1 DNA company light-years ahead of the competition…"
Adam O'Dell wrote a report about it called The Next Intel: The Microchip Company Powering the 199,000% DNA Mega Trend in which he provides you with all the details concerning the company. But you don't have to read it because I pieced the clues together and I think I know what company he is talking about.
What he is referring to here is a company called Twist Bioscience (stock symbol TWST). It is based in San Francisco where it manufactures synthetic DNA and DNA products for clients in a wide range of industries. It shouldn't really be considered a small company because it has a market cap of 5 billion as of writing this.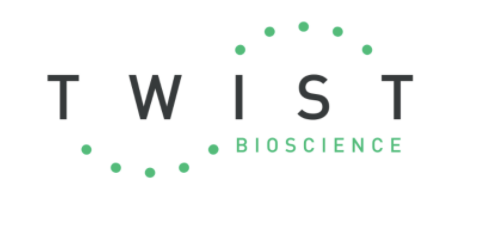 Twist describes itself as a synthetic biology company that has developed a disruptive DNA synthesis mechanism that will revolutionize the engineering of biology. At the core of their work is a proprietary technology that uses a new method of manufacturing synthetic DNA by "writing" it on a silicon chip.
This is what Adam is referring to as "Imperium Technology."
Twist leverages its unique technology platform to manufacture a broad range of synthetic DNA-based products like antibody libraries for drug discovery, synthetic genes, and tools for NGS sample preparation.
The company also hopes that their platform will facilitate the development of new biological drugs and enable new applications such as digital data storage in DNA.
The WIRED article he referenced at the beginning of the video pointed me right to it because the CEO of Twist Bioscience (Emily Leproust) referred to the company as gene sequencing's Intel and Ginkgo, one of its clients, as akin to Microsoft.
It partnered with Illumina and Microsoft to compress large amounts of data for storage in a DNA molecule.
While we are talking about this, I should clarify that this has nothing to do with the company called Imperium Technology Group Ltd (formerly Imperium Group Global Holdings), which is an investment holding company that engages in the manufacture and sale of household products and stainless steel furnishings.
Recommended: Go here to see my no.1 recommendation for making money
Three Other DNA Stocks Picks Adam O'Dell is Recommending
He also wants us to consider investing in three other DNA companies that are at an earlier stage in their development than the first choice company we just discussed. He believes they could end up becoming the best-performing stocks in their niches and he has written about them in a report called 3 Future DNA Titans Trading for as Little as $2 a Share.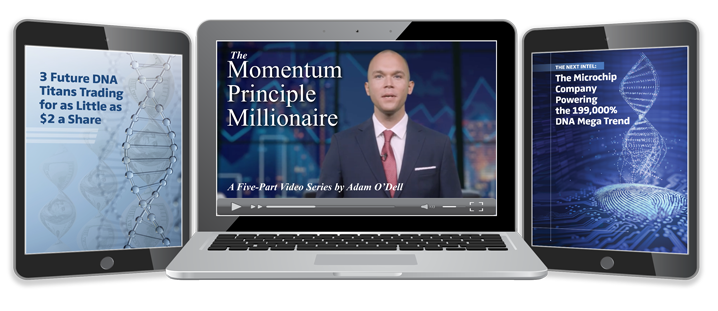 I could not identify the first two bonus picks but the third Bonus DNA company breeds genetically modified salmon…
"They grow salmon…
Yet, their fish are different than any that's ever been farmed before.
Firstly, they're using what's called land-based aquaculture.
That means they grow the salmon in filtered pools that simulate the wild environment … so they don't even need a wild body of water!
And that brings down costs while increasing yield.
But the big thing that sets this company apart is their unique salmon.
It's the first DNA-edited animal approved for consumption by the FDA.
DNA technologies have been used to make these fish healthy, strong and grow fast.
Not only is this ground-breaking…
It's HYPER profitable.
They're able to farm 70% more salmon while using 25% less feed.
And the best thing is, they're absolutely delicious … no hormones or anything unnatural added…"
The company that fits that description is small-cap stock called AquaBounty Technologies (AQB). It is a biotechnology company based in Massachusetts. This small-cap is known for its research and development of genetically modified fish. It researches ways to create products that increase the productivity of aquaculture.
In 2015, the FDA approved its AquAdvantage Salmon to be produced at two of its facilities – the approved capacity has been increasing since. As of 2020, the sale of GM salmon had been approved in Canada and the USA, which Adam believes could be a major boon for the small company.
To get your hands on the two special reports, you have to sign up for Adam's investment advisory service called Green Zone Fortunes. We will take a closer look at it later on.
Recommended: Go here to see my no.1 recommendation for making money
Who is Adam O'Dell?
Adam O'Dell is a former hedge fund manager and a Chartered Market Technician (CMT). The CMT designation is given to individuals who have shown competent use of technical analysis to the CMT Association.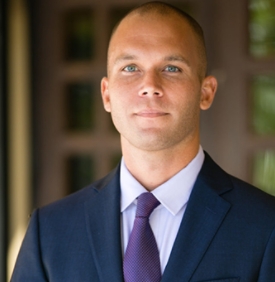 His first foray into the world of investment newsletters was as a chief investment strategist at Money Market, an independent research firm he founded that has more than 250,000 readers.
He has also worked for the financial research firm that was formerly known as Dent Research where he leveraged his expertise in system development to create an investment research service called Cycle 9 Alert. The goal was to identify market sectors that are likely to do well.
This is not the first Adam O'Dell presentation I have reviewed here by the way; I have encountered Adam's work before when I reviewed a presentation he did called A9 Gold Stocks where he was talking about mining stocks. I have also written about another newsletter he publishes called Home Run Profits.
Recommended: Go here to see my no.1 recommendation for making money
What is Green Zone Fortunes? (The Newsletter)
Green Zone Fortunes is an investment advisory service that Adam says is designed to show you how to rapidly grow your net worth. He sends you investment recommendations that he expects to bring in the biggest profits.

To spot those opportunities, he runs thousands of stocks through a trading system he created called the Green Zone Ratings System that filters each entry based on six factors that predict future growth, rating them from 0 to 100.
Adam has an investment strategy where he spots big investment opportunities regularly, highlighting the top 10 best-performing stocks and the 10 worst-performing ones too.
What you get when you join Green Zone Fortunes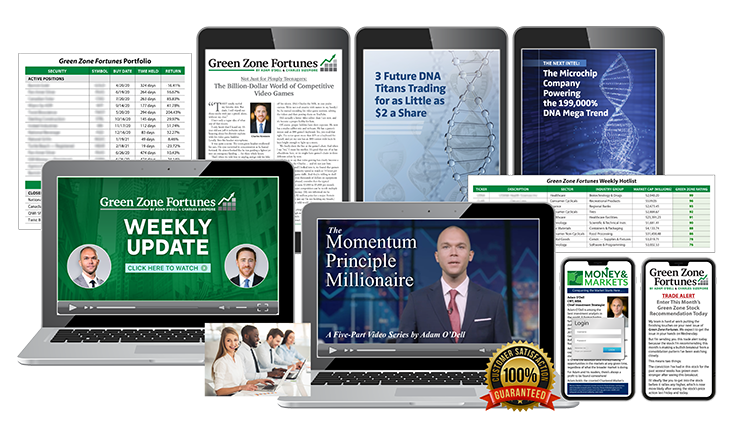 In addition to the free reports we talked about earlier, here is what you get when you join Green Zone Fortunes:
12 monthly issues of Green Zone Fortunes, including Adam's No. 1 stock recommendation each month. This is a monthly newsletter centered on finding the biggest opportunies.
The Green Zone Fortunes Top 10 "Weekly Hotlist"
Momentum Principle Millionaire Video Series. Adam explains his market-beating secrets including how he has been beating the market.
The Green Zone Fortunes model portfolio
Weekly email updates
Real-time trade alerts when it's time to sell a position so you can maximize your profits
Access to the entire back catalog of special reports and resources
You also receive the following bonus reports:
How much do you pay to join Green Zone Fortunes?
A one-year subscription costs $47 and renews at $79 per year after that.
Does Green Zone Fortunes have a Refund Policy?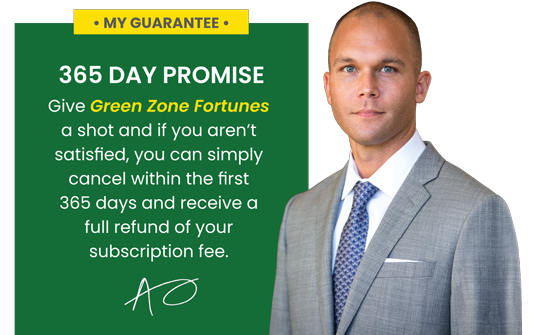 You can cancel your subscription within the first 365 days for a full refund of your subscription fee.
Recommended: Go here to see my no.1 recommendation for making money
Closing Remarks on Adam O'Dell's Imperium Technology Pitch
Adam O'Dell says that if the 2010s were the period when FAANG stocks became dominant, the 2020s will be the decade when market-leading stocks from biotech and DNA-sequencing technology come to the fore. He points out that biotech stocks outperforming the S&P 500 by more than 2.5 times over the past six months is a sign of things to come.
He says that since DNA technology is still off the radar of many investors, that makes it a once-in-a-lifetime opportunity. To be fair, there has been a lot of interest in genome sequencing stocks over the past few years with analysts urging investors to buy biotech startups hoping they will come good. But the thing with these startups is that they are unpredictable and they come with a great deal of risk.
Adam believes that he has identified stock called Twist Biosciece (Ticker symbol: TWST) that could corner the market. The company operates within the biotech space and it has a powerful product that will revolutionize the industry. What sets it apart from its competition is its new microchip it uses to streamline its process. It is worth pointing out that its market cap went up significantly in 2020.
The small cap company he has identified is called AquaBounty Technologies and it farms genetically modified fish.
Ultimately, you have to decide whether you will follow Adam's advice. As you do so, ensure that you research his recommendations first because what he is offering is merely general advice.
Before you go…
Want to see my no.1 recommendation for making money online?
This made us 6-figures in the last 3 months:
Go here to see my no.1 recommendation for making money online