Empire Financial Research is a publishing company that was established in 2019 by Whitney Tilson.
I stumbled across it when I recently shared a review of Whitney Tilson TaaS, a presentation that was published by the company and presented by the founder, Whitney Tilson.
Empire Financial Research was started to provide in-depth research and independent advice to investors by publishing newsletters, media content, and articles.
In this review, I will provide you with an overview of the services it renders, the approaches that the editors take, and a background of each of them to enable you to make sense of what the company is all about.
No.1 recommendation….
Want to see my no.1 recommendation for making money online?
This made us 6-figures in the last 3 months:
Go here to see my no.1 recommendation for making money online
What is Empire Financial Research
Empire Financial Research was started in 2019 by Whitney Tilson. It is a corporate affiliate of InvestorPlace, an independent financial publisher that has been around for 40+ years.
Empire Financial Research is based in New York City, New York.
Whitney started Empire Financial Research to provide investors with contrarian investment advice by pointing out opportunities they may be overlooked or ones that investors are unaware even exist. He also claims that he provides readers with the same level of information as elite investors.
As contrarians, the editors do not shy away from making bold predictions that are high risk but likely to deliver good returns. This is evident in the "About" page on the official website:
"We're contrarians on the hunt for investment opportunities that Wall Street has overlooked… and we aren't afraid to make bold predictions."
Although as a collective, the approach of Empire Financial Research is contrarian, the approaches taken by the experts individually are quite flexible. The experts sometimes resort to conventional advice – such as encouraging readers to buy and hold.
Empire Financial Research encourages readers to use strategies like short-selling, growth, and value investing, just to mention a few. The analysts spot new trends that other investors have not spotted to give their readers the first-mover advantage on lucrative investment opportunities.
Thanks to Whitney Tilson's reputation and ties, the publisher counts some big names among its subscribers. That includes people like Joel Greenblat, Leon Cooperman, Bill Ackman, just to mention a few.
Recommended: Go here to see my no.1 recommendation for making money
Who are the Experts at Empire Financial Research"
Whitney Tilson
Whitney Tilson is the CEO and founder of Empire Financial Research. He is also the editor of the flagship newsletter, the Empire Stock Investor. He also edits the Empire Investment Report.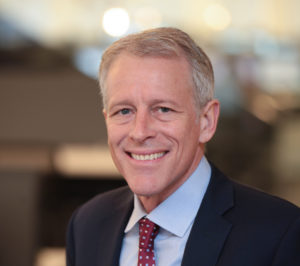 Whitney got his Bachelor's degree from Harvard College, graduating magna cum laude, before spending two years working as a consultant at Boston Consulting Group. He later got his MBA from Harvard Business School.
Whitney Tilson started and ran a firm called Kase Capital Management that oversaw three hedge funds and two mutual funds. Tilson started with $1 million and grew the assets under management to close to $200 million.
He has co-authored two books, namely More Mortgage Meltdown: 6 Ways to Profit in These Bad Times and The Art of Value Investing: How the World's Best Investors Beat the Market.
The former hedge fund manager has written for the Motley Fool, TheStreet.com, the Wall Street Journal Forbes, Financial Times, and Kiplinger's. He has also been featured on two segments of CBS's 60 Minutes.
Recommended: Go here to see my no.1 recommendation for making money
Enrique Abeyta
Enrique Abeyta edits the Empire Elite Trader. He went to the University of Pennsylvania for his undergrad and later graduated from Wharton School of Business cum laude.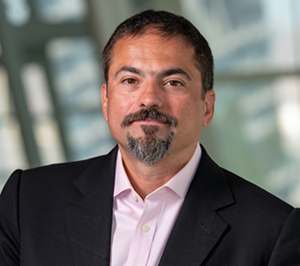 While he was at Penn, he helped co-found the Wharton Fellows Fund, a student-run endowment investment fund. He also served as Pennsylvania Investment Alliance's head of research for three years.
After graduating, he worked on Wall Street for more than 20 years where he managed more than $2 billion in assets. He founded and ran two long/short hedge funds.
He started Stadia Capital in 2000 and once grew its assets to $1.7 billion.
In 2007, he started the 360 Global Capital hedge fund. At its peak, assets under management reached $260 million. He later helped start Falcon Edge Capital Fund, which focused on short selling.
His legacy on Wall Street was outperforming the S&P 500 for ten years while generating returns during the bear markets that followed the Global Financial Crisis and the Dot-Com Bubble. He believes that traditional value investing is dead. He joined Empire Financial Research in 2019.
Recommended: Go here to see my no.1 recommendation for making money
Berna Barshay
Berna Barshay is the latest member to join the editorial team at Empire Financial Research. She edits Empire Financial Daily and contributes regularly to the Empire Investment Report and Empire Stock Investor.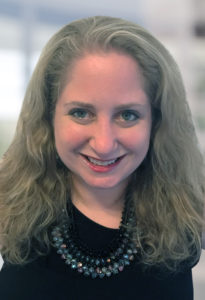 She participated in two events hosted by Empire Financial Research, namely The Empire Financial's Wealth Accelerator and The 2020 Empire Election Summit.
Ms. Barshay graduated from Princeton University cum laude before joining Harvard Business Sch. just like Whitney for her MBA.
After finishing her studies, she worked on Wall Street for 20 years. Her career began at Goldman Sachs where she worked in equity derivatives. She later joined Sanford Bernstein as a buy-side equity analyst. At Sanford, she dealt with global consumer cyclicals and conglomerates.
She joined Ingleside Select Fund (a long/short fund focusing on value and event driven investments) where she worked for five years as a portfolio manager. She also worked for Swiss Re as a portfolio manager, where she managed the consumer long/short book on the equity proprietary trading desk.
Berna Barshay has experience as a buy-side analyst at several long/short hedge funds where she covered the tech industry, media, as well as stocks in financials and energy.
Gabriel Marshank
Gabriel Marshank went to Yale University and graduated cum laude with a degree in political science. He is a senior editor at Empire Financial Research.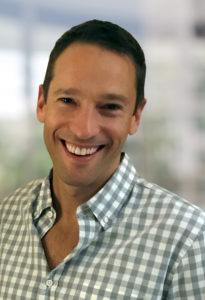 After graduating, he worked as a researcher at Leon Cooperman's Omega Advisors and later moved to Pequot Capital where he specialized in global technology, media, and telecom stocks.
Gabriel has been a professional investor for more than two decades, during which he has covered almost every industry globally.
In 2019, he retired in order to focus on his own investments. It was then that he decided to join Empire Financial Research.
Alex Griese
Alex is an analyst at Empire Financial Research. He guest writes for Empire Financial Daily and contributes to Empire Investment Report and Empire Stock Investor. His does in-depth research for each of those services.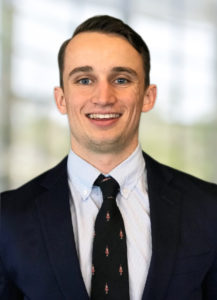 He graduated in 2017 with a degree in computer science and economics.
Before he joined Empire Financial Research, he was working at Ulland Investment Advisors in Minneapolis.
What Newsletters Does Empire Financial Research Offer?
The company offers the following premium services:
Empire Stock Investor
Empire Stock Investor is the flagship newsletter that is headed up by Whitney with his colleague, Enrique Abeyta.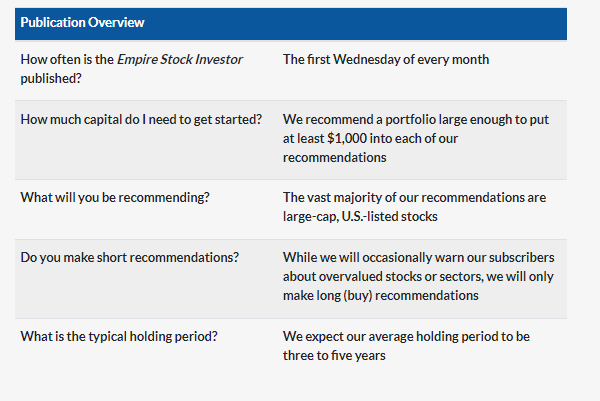 Whitney finds investments that are capable of growing the subscriber's investments safely without exposing them to excessive risk. It is suited to risk-averse clients.
He mainly recommends large, household name companies although he sometimes goes for growth stocks (like in the case of TaaS stocks) that have the potential to become the next tech giants. These are companies working on disruptive technologies like AI, 5G, self-driving technology, VR, just to mention a few.
With an Empire Stock Investor subscription, you receive:
12 monthly issues of the Empire Stock Investor newsletter. Every issue covers Whitney's favorite stock investment ideas arrived at with the help of his world-class team of researchers.
Complete access to Whitney's monthly reports, model portfolio, and everything else he publishes in Empire Stock Investor.
Immediate alerts and portfolio updates as needed.
A free subscription to Whitney Tilson's Daily. You get this e-letter every day the markets are open at no additional cost. He shares market insights about the market in general.
Empire Financial Daily. This is sent to you every day the stock market is open by Berna Barshay.
Is Empire Stock Investor Legit?
Yes, it is a legit investment research service and although you'll find a negative Empire Stock Investor Review or two out there, most of them are predominantly positive.
You can read my Empire Stock Investor review for more information on it.
I also covered it in my review of his presentation about taas stocks.
Recommended: Go here to see my no.1 recommendation for making money
Empire Investment Report
Whitney Tilson runs Empire Investment Report.
With this one, he is finding stocks that are capable of beating the market while exposing subscribers to relatively low risks.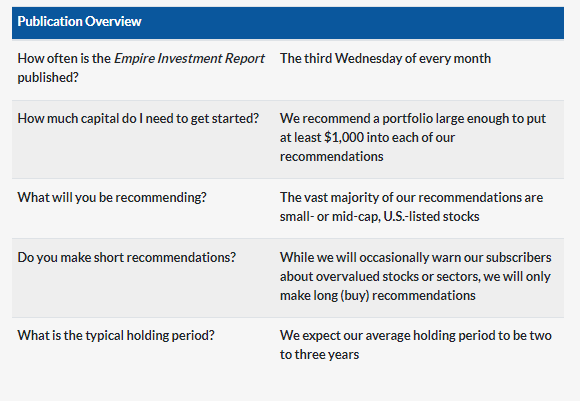 He targets small- to mid-cap stocks and although these companies are relatively well-established and can deliver the biggest upside potential, you won't see them being covered frequently on mainstream financial media platforms. They update the model portfolio every month and hold their positions for two to three years, on average.
Empire Elite Trader
Empire Elite Trader is run by Enrique Abeyta. He recommends short-term investments that involve companies in the mid-cap to the large-cap range.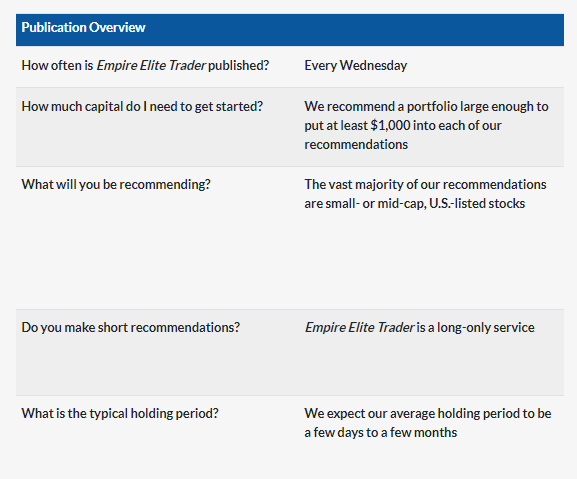 He encourages his readers to hold their positions for anywhere between a few days and a few months and gives them weekly updates.
At any time, the model portfolio has a maximum of 20 stocks. He is not obsessed with large returns due to the short-term nature of the strategy. He targets quick returns over a short period.
Recommended: Go here to see my no.1 recommendation for making money
Empire Elite Growth
Enrique Abeyta is the editor. Unlike Empire Elite Trader, which focuses on short-term investments in mid- to large-cap stocks, Empire Elite Growth deals with small- to mid-cap growth stocks that are typically held for a longer period.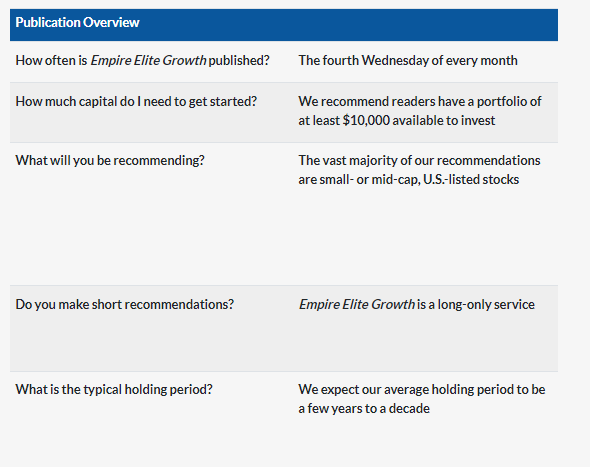 His model portfolio usually has 10 to 15 stocks (although these numbers are not set in stone). He updates the portfolio every month or whenever he deems it necessary.
Since he deals with growth stocks, they are usually expected to deliver higher-than-usual returns.
Empire SPAC Investor
Empire Financial Research started offering Empire SPAC Investor because Special Purpose Acquisition Companies (SPACs) have become very popular over the past two years.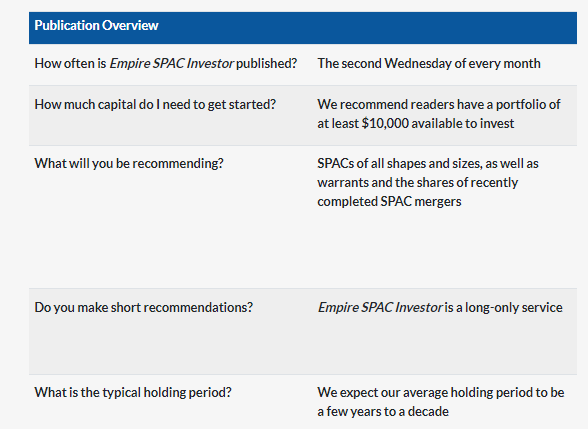 Edited by Enrique Abeyta, this service's mission is to identify and vet SPAC opportunities with the highest upside.
Enrique recommends SPACs "of all shapes and sizes as well as warrants and the shares of recently completed SPAC mergers."
Empire Elite Options
This service is run by Enrique too. It is a short-term options trading service that specializes on small- to large-cap American-listed stocks.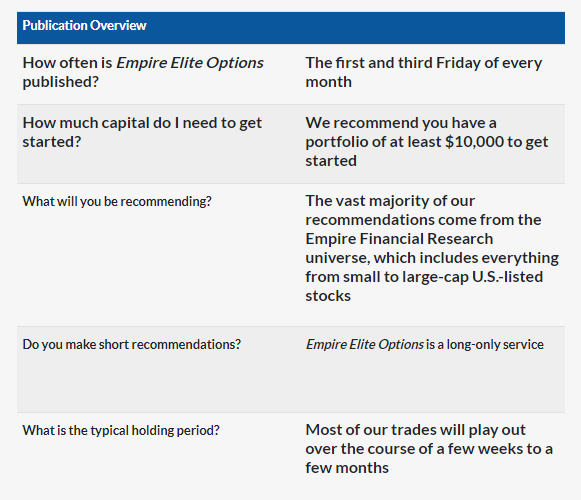 Most of the plays are typically held over the course of a few weeks to a few months.
Empire Market Insider
Empire Market Insider is edited by Berna Barshay. The vast majority of the recommendations are mid- to large-cap American-listed stocks.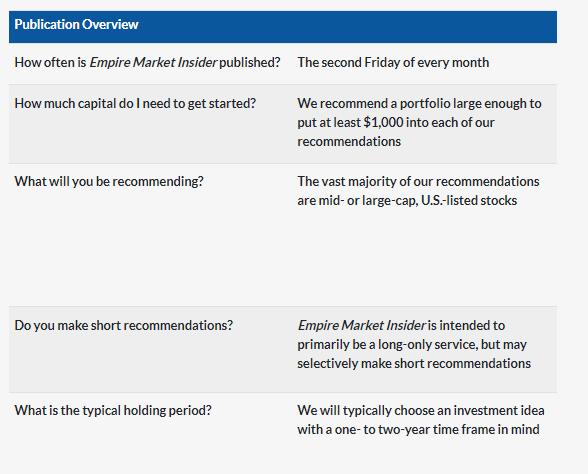 This service was initially intended to be primarily a long-only service but she occasionally dabbles in short recommendations. The typical holding period is one to two years.
Recommended: Go here to see my no.1 recommendation for making money
Empire Financial Research Final Verdict
Empire Financial Research is an independent publisher of investment newsletters. It is run by a group of experienced financial analysts and former hedge fund managers with over 50 years' experience in the world of finance.
The New York City- based publisher offers a variety of newsletters, each with a different approach, to provide you with the variety needed to have a diversified portfolio. Whether you like short-term or long-term investments, there is a newsletter that caters to your needs.
That being said, don't forget that Empire Financial Research is not authorized to provide advice that is personalized. The recommendations they send you should not be misconstrued as personal investment advice. Instead, they should just be taken as suggestions. You need to decide whether they suit your investment strategy.
Before you go…
Want to see my no.1 recommendation for making money online?
This made us 6-figures in the last 3 months:
Go here to see my no.1 recommendation for making money online